THE HISTORY OF ST.DAY & CARHARRACK SCHOOL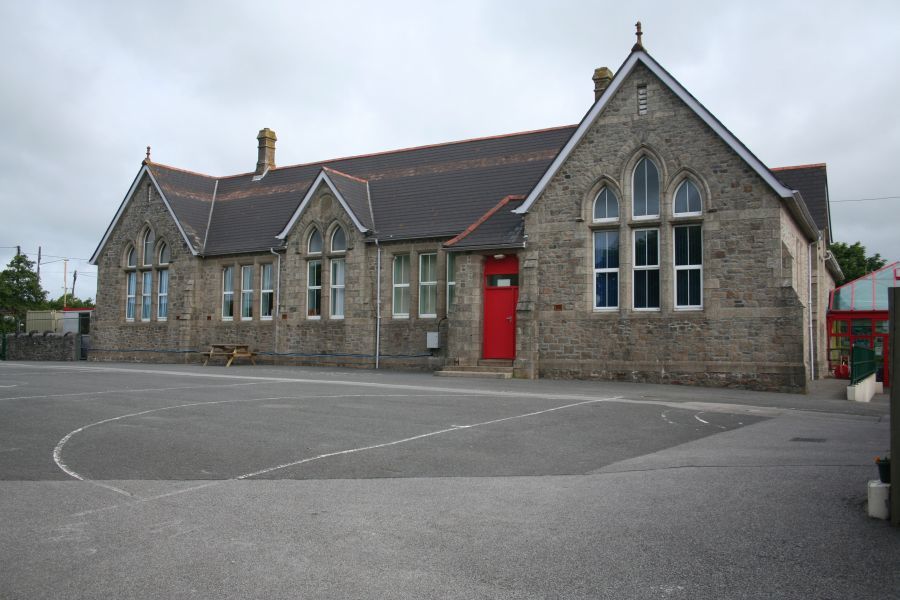 St. Day and Carharrack Community School is a co-educational Community School for children aged 4 - 11 years.
The original buildings designed by the Architect, Sylvanus Trevail, were opened as boys' and girls' schools in 1878 by the Gwennap School Board. The sum of £2,500 for building St. Day School was quoted and the Board appointed Mr. Peter Jennings Master of St. Day Boys' School at a salary of £105 per year, and Mrs. Elizabeth Jenkins Harris, Mistress of the Girls' School at a salary of £80 per year!
School fees charged by the Board were:-
1d. per week for children under 6,
2d. per week for children under 9
3d. per week for children over 9.
(School leaving age was 13 years - but many left to get jobs before then.)
The Gwennap School Board continued to be responsible for the schools until 1903 following the abolition of all School Boards in the 1902 Education Act. From that day until the present time Cornwall County Council have administered the school - originally as three departments, with three headteachers - the infants, junior girls and junior boys.
In 1947 the school leaving age was raised to 15, but it was still only those who passed the eleven - plus examinations who went on to attend a Grammar School. It was not until 1959 that re-organisation of secondary education in the district made it possible for all children over the age of 11 to move on to secondary schools and 85 boys and girls were transferred to Trewirgie Secondary Modern School. In May 1960 the three departments amalgamated into St. Day C.P. School, under the leadership of Mr. J.G. Gilbert as Headmaster. In 1999 the Governors decided to rename the school St. Day and Carharrack Community School, in order to reflect more clearly the people it serves.
The original buildings have been updated and extended, with the addition of classrooms, hall and offices, internal toilets and a school canteen. Internal refurbishment has included the provision of a well resourced school library and technology suite. The older children are situated in the old, original building, while the younger pupils are housed in modern purpose - built classrooms. The school has two hard play areas - one with adventure play equipment - and a school field, used for outdoor physical activities.

Currently, Wendy Titman Associates is working with the school on a project entitled "Taking the Learning Outside". This project is a phased development of our outside environment.